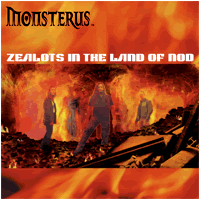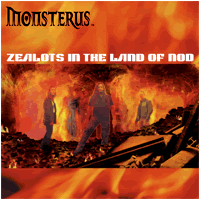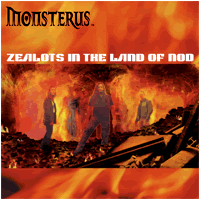 FOR IMMEDIATE RELEASE
B2 Entertainment and Monsterus are proud to present their long awaited and highly anticipated debut album "Zealots in the land of Nod." Over the past 2 years, Monsterus have become one of Christian music's most talked about new artists. With favorable press in publications such as Music Connection, Guitar Player, Modern Drummer and others...Monsterus continues to build its momentum and prove that the commercial viability of the band is endless.
Known for their bold lyrical approach and riveting music, Monsterus not only brings great music for the hard music listener but also a challenging message to all who listen. Monsterus has also turned the ear and gained the support of some major influential industry experts, as well as garnered numerous endorsements from a growing list of such top music gear companies as GHS Strings, Vic Firth Drumsticks and May Mics. Musically Monsterus competes with the hardest bands in the secular industry. Lyrically they are like no other!
- - -
FOR IMMEDIATE RELEASE 7.4.03
Dayton, Ohio — Making a bold move today, Christian rock band, Monsterus officially announced after nearly a year of talks with major record executives, they will remain independent as well as launch their own independent record company...B2 Entertainment (Band 2gether Entertainment.) The idea for B2 came to Monsterus drummer Ron Campbell over a decade ago in '92 when initially laying the groundwork for what would literally become MONSTERUS! Since that time, B2 has served as a private production company solely owned and operated by the band.
Based in the birthplace of aviation, Monsterus found it only fitting to announce the launch of B2 Entertainment on the opening day of Dayton's Centennial of Flight Celebration. "100 years ago today the Wright Brothers launched an idea that would change the world, that's our goal with this new venture." says Monsterus drummer, Ron Campbell. "We're really excited for what's ahead because we're one of the only record companies around anymore solely owned and operated by Christians. With the 'crossover' success of bands like P.O.D., MXPX, and Sixpence none the Richer...the mainstream entertainment industry has taken notice of this multibillion-dollar business and responded by acquiring most all of the independent Christian record companies. Believe me, after this past year one thing rang clear...success to these media moguls is measured in sales not souls!"
Monsterus will lay the foundation for B2 with their long awaited debut album, Zealots in the Land of Nod...which will be premiered July 18-20 at the NAMM International Music & Sound Expo in Nashville and will be available worldwide by August 1st. "Our game plan is simple" states Monsterus bassist, Don Williams, "If God is leading you to do something then simply follow His Lead! When He's in the drivers seat, no man can stop it!" Following their debut release on the new label, Monsterus will begin work on their second record, with plans to establish a roster of what they term 'ministry minded artists.' "We're looking for something that is getting harder to find these days...music with an anointing" adds Ron, "Music that reaches down from their very heart of God and touches hearts in a way in which no man can. This industry has forgotten how it all got started in the first place with such ministry minded artists as the legendary Andrae Crouch, Keith Green, and Larry Norman. When this whole genre started it was driven by ministry and not an industry. And yes, our artists will 'crossover' however the focus will be on making sure they take the cross over with them. The world doesn't need another icon or idol...they need answers....they need God"
Doors have continued to open for Monsterus and B2 Entertainment as well with the upcoming release of Monsterus: A Zealots in the Land of Nod–The Graphic Novel from Quest Comics in New York. This 72 page full color comic is based on the entire storyline behind the album and features Monsterus throughout. The band also can expect a big push sometime in 2004 when the albums title track Zealot in the Land of Nod appears both on the soundtrack and in the sci-fi animated film "Aneste: Brace of Two."
B2 Entertainment has secured both worldwide distribution and relationships with high profile and influential industry experts to further strengthen their leadership position. "Feedback to what we're doing has already been positive and the momentum is just starting to build." adds Monsterus frontman/guitar player, Mars Alan, "It is important to us that B2 Entertainment be perceived as a dominant player pushing the envelope in all aspects of its business and ministry...which is vital for survival in this highly competitive industry. We are confident, that as our vision remains on The Rock this label will be rolling for many years to come."
MEDIA
If you are a member of the press or operate a music website and would like to set up an interview with MONSTERUS, please e-mail press@monsterus.com.
PROMOTION
Radio stations requesting service should e-mail promotion@monsterus.com.
For more information, e-mail B2Entertainment@monsterus.com, or visit our website at www.monsterus.com.
CONTACT
Ron Campbell
B2 Entertainment
707 Miamisburg-Centerville Rd. #777
Dayton, OH 45459
E-mail: B2Entertainment@monsterus.com
- - -